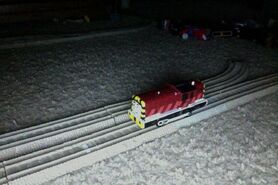 Salty is easy-going, friendly and very practical. He also enjoys telling stories revolving around the sea and fantasy. His seafaring ways and accent are sometimes ridiculed by the other engines, but his usefulness almost always helps the others overlook that. 
Appearances
Edit
Skarloey And The Quest For The Lost Engines (cameo)
Voice Actor
Edit
Ilovetrains323 (Season 1- Present)
Ad blocker interference detected!
Wikia is a free-to-use site that makes money from advertising. We have a modified experience for viewers using ad blockers

Wikia is not accessible if you've made further modifications. Remove the custom ad blocker rule(s) and the page will load as expected.