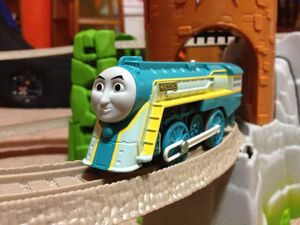 Connor is a streamlined engine from the Mainland, designed for speed. He is excitable and energetic and, like Caitlin, loves to race the other engines. Connor, however, is better able to be patient unlike Caitlin . Both Caitlin and Connor run regularly between the Mainland and Ulfstead Castle via the Vicarstown Bridge. 
Appearances
Edit
Voice Actor
Edit
Ad blocker interference detected!
Wikia is a free-to-use site that makes money from advertising. We have a modified experience for viewers using ad blockers

Wikia is not accessible if you've made further modifications. Remove the custom ad blocker rule(s) and the page will load as expected.